Getting to Takeno by Train
Relax on the clean and soft white sand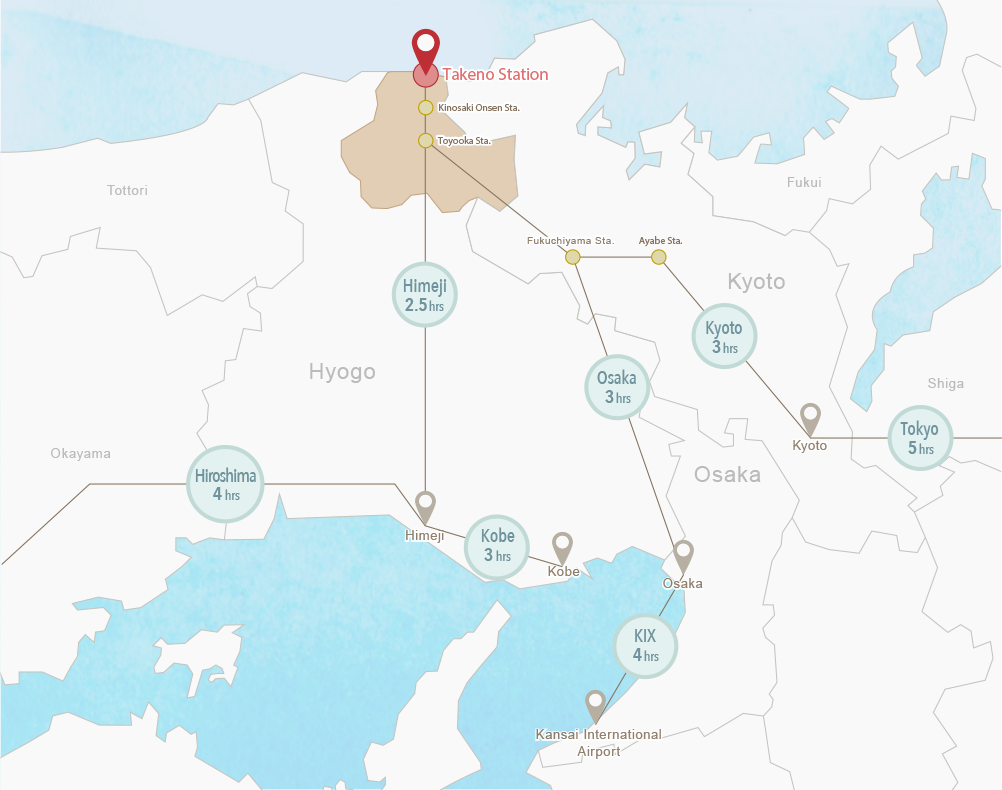 Located on the JR line, visitors with the JR Pass can easily use the trains to get to Takeno. From Takeno station it is a pretty easy and straight forward walk to the beach, about a 25 minute walk. There are also bicycles for rent from the tourist information counter at the station for quicker access to the beach.
| | |
| --- | --- |
| from KANSAI INTERNATIONAL AIRPORT (KIX) | From Kansai International airport take the Limited Express HARUKA to Tennoji or Kansai Airport Rapid Servis for NAMBA. Then transfer to Limited Express KONOTORI / HAMAKAZE at JR Osaka Station. |
| from OSAKA | From Osaka. It takes approximately 2 hours 40 minutes by Limited Express train KONOTORI / HAMAKAZE. A transfer in JR TOYOOKA or JR KINOSAKI ONSEN may be required. |
| from KOBE | From Kobe take the Limited Express train HAMAKAZE from JR Sannomiya Station directly to Takeno. It takes approximately 2.5 hours. |
| from HIMEJI | From Himeji take the Limited Express train HAMAKAZE from JR Himeji Station. It takes approximately 1 hour 50 minutes. |
| from KYOTO | From JR Kyoto station. It takes approximately 2.5 hours by Limited Express train KINOSAKI. A transfer at JR Fukuchiyama Station and or JR Toyooka Station may be required. |

STATION

BEACH

To get to the beach from, Takeno Station turn left onto the street running in front of the station. You will see a white sign on the street to your left pointing you in the direction of "Takenohama Beach and Nekozaki Peninsula". Keep walking straight on this road for about 10 minutes, then you will cross over a canal before comming to a traffic light at a four way intersection. Go straight, crossing the intersection and continuing down the narrower road. Follow this road straight for another 10-15 minutes and it will open up to the beach.
Getting to Takeno along the coastal road
Bike or drive along the scenic coastal road to Takeno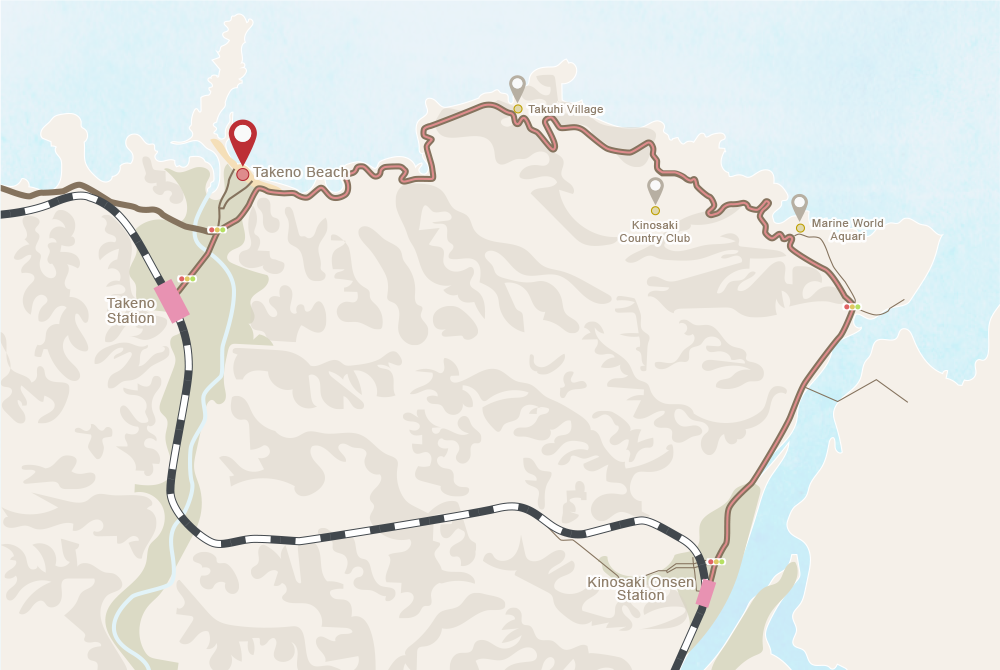 TIME: About 1hr. 20 min
Rental cycles are available at Kinosaki Onsen's tourism counter. The course is approximately 13km and very hilly. Please be sure that you are in good health and travel by bike only on days with good weather.
TIME: About 25min
The coastal road is winding and can be narrow in some areas. There are pull off areas near scenic points of interest. You will find parking along the beach. *There are parking fees during the busy summer months.